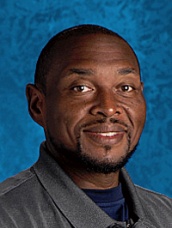 Hello Friends!
It is a pleasure to serve you for a fourth year! I began my career in education in the Yadkin County School System. I have been in the Wilkes County School System for nine years. This is my seventeenth year in education. I began my administrative career at Central Wilkes Middle School. I was an assistant principal there for two years. I then moved to Wilkes Central High School as the assistant principal. I spent three years at Wilkes Central.
When I am not working, I serve as pastor at Sandy Creek Missionary Baptist Church on Austin-Traphill Road. I enjoy being a husband to LaKeisha. I love being a father to my eight year old, La'Bren and my 24 month old, Campion. I also enjoy coaching youth sports. I enjoy teaching kids the games that were instrumental in my development as a young man. I also want to serve as a mentor/coach as a result of the great role models that I had as a student-athlete.
It was an extreme blessing when I was named principal at C.B. Eller Elementary School four years ago. Being in a community that shares the same values and beliefs strengthen the relationship of the school, home, and community. Again, it is a blessing to serve you!
Mr. Chad L. Mann
Principal